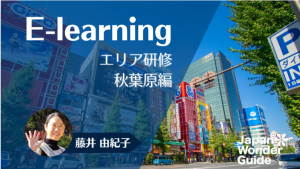 I worked as an instructor for E-learning Akihabara which hosted by Japan Wonder Guide Campus in 2023.
I've been doing tour in Akihabara on virtual since 2020 and I started real Akihabara tour in last October 2022, so I know a lot about this area.
Akihabara is well known for Anime, manga, game and Electronics. Japanese subculture is getting popular and many people visit this area these days. However, many individual shops are small, slightly different and located inside of buildings, so it's not easy to find the one which you'd like to go. I have Akihabara Half day Tour on my site here and on Get Your Guide, so please feel free to contact with me.
https://www.getyourguide.com/tokyo-l193/akihabara-anime-and-electronics-guided-tour-t437012/
https://campus.japanwonderguide.com/